Improve Productivity
Minimise labour costs plus noticeable improvements in output by reducing packing times
When most companies look to reduce costs, particularly on packaging, the first thing to be analysed is unit cost. Whilst this has an obvious and direct impact on the bottom line, focusing solely on the price per unit can lead to corners being cut with regards to materials used and, ultimately, quality.
In fact, it is possible to significantly reduce spend without reducing the unit cost (and quality) of your packaging. It is even possible to pay may more per box and still see vast savings in costs.
So how this is done?
By minimising packing times, it is possible to reduce labour costs, increase output and productivity and not compromise on packaging quality, which itself could lead to increased transit damage and returns.
Packing Inefficiently?
Does your company need to minimise packing times?
Although often low cost, certain forms of corrugated packaging can be difficult or time consuming to construct.
If for example taped cartons are being used, the time it takes to assemble and then securely fasten them can – over many thousands of boxes – quickly add up. This can be exacerbated further by packaging that requires additional inserts, void fill or dividers to be added as well.
In fact, depending on the style of box you are using, the most time consuming part of your packing operations could be the taping of the boxes before loading. Filling the box is frequently the quick part.
Having eliminated the need for tape, some companies have even reported a 60% reduction in packing times.
This reduction in packing times can significantly improve your business' productivity, which in turn can have a significant, positive impact on labour costs and profitability.
Example of cost savings achievable
Please see below for an infographic detailing how minimising packing times can reduce your ongoing costs. Please click the image for a larger view.
So how can packing times be minimised?
The starting point when looking to minimise packing times would always be to take a holistic view of your entire packaging process.
This would identify any cartons or inserts that are particularly time consuming to erect. These would then be re-engineered to eliminate the need for secondary packaging such as tape, whilst also reducing the time taken to assemble.
Past experience also ensures that GWP Group already manufacture a number of products that eliminate the need for packaging tape. These inherently minimise packing times.
Crash lock boxes for example simply open out and lock together from flat. The pre-glued base flaps of these cartons that lock into place can reduce packing times by as much as a third.
Our experienced designers can also create packs that use integral cushioning that limit the need for foam to be added, are specific sizes thus eliminating void fill, or feature compartments that house multiple items.
Additional Benefits
Other ways reducing packing times can help your business
It gets better. The use of crash lock or easy assemble packaging can reduce costs in a number of other ways too.
Firstly, by eliminating the use of tape it also means the costs of purchasing and the space for storage is eliminated. Secondary packaging such as tapes can be a significant cost it its own right, but one which is rarely addressed.
Easy assemble boxes, such as crash lock designs, have also been shown to reduce RSI injuries in employees tasked with assembling packaging and boxes too – a benefit to employees and to your business due to less absences.
For the end user of the packaging there are benefits too. Besides looking more attractive, they are much easier to recycle. This is because the packs fold down more easily, whilst the need for removing metres of tape is eliminated as well.
Finally, if custom sizes / formats of packaging have been produced to reduce or eliminate void fill, the knock on effect of this can also be reduced transit costs. This is particularly important for air freight where volume can have a big impact.
Case Study
The Consortium
The Consortium is one of a number of companies benefiting from the use of Crash Lock boxes.
With a turnover in excess of £45 million, the volume of products being shipped meant that even modest gains in productivity would yield significant improvements in both cost and performance.
By working alongside GWP, these cost savings and productivity gains were realised, allowing the business to vastly improve their overall packing processes too.
We've been working with GWP for around eight years. They supply all our packaging and we are absolutely delighted with them. Over time our needs have changed and they always respond swiftly with exceptional service. They know what we want and when we need it, and hold stock for us, and they never let us down. We feel they really understand our business, and they work very hard on the relationship.
Mark Barnett | Consortium Operations
FAQs
Commonly asked questions about minimising packing times
Recognise that you need to minimise packing times at your business, but don't know where to start? The below covers some of the most commonly asked questions for businesses in your position.
If you cannot find the information you need however, please contact a member of the GWP team who will be happy to advise.
Why should I worry about minimising packing times?
Slow packing times can be one of the hidden costs of your packaging. Not only does it reduce the productivity of your staff, but it can mean orders reach your customers less quickly (which can lead to reduced repeat business / loyalty). It can also mean your operations struggle to cope with peaks in demand (such as Black Friday or Christmas).
What processes can impact packing times?
There are many steps / processes that can affect packing times. This includes retrieval of the items to pack / be packed, box assembly, adding products, inclusion of void fill, closure of boxes (including taping), adding labels and moving to packed cartons ready for collection. Each of these stages can be analysed for efficiency gains and cost reductions.
How will this affect my business' packing staff?
Improving packing times can benefit your staff in a number of ways. This includes feeling under less pressure, creating more manageable workloads, removing fiddly or annoying jobs, and allowing them to cope better with seasonal demand fluctuations. Some forms of packaging 9such as crash lock boxes) can even reduce the prevalence of RSI type injuries.
Is it possible to eliminate void fill too?
Adding void fill to boxes can be a time consuming process (which also makes disposal for your customers more difficult too). Using custom inserts or fittings can help reduce the need for this, whilst even changing the type of void fill you can use can result in significant productivity gains.
Can these principals be applied to returnable packaging?
Most of the principals used for improving packing times of single trip boxes / cartons can also be applied to reusable totes. As manufacturers of both form of packaging, GWP will be happy to advise on your specific requirements.
Summary
The key benefits of packing time reduction
Reduction in assembly times improves packing through-out and aids productivity
The cost of secondary packaging (such as tapes, void fill etc.) is eliminated
Your packaging is easier for the end user to recycle
The likelihood of RSI injuries in your packing staff is reduced
Find Out More
Get advice from a packaging specialist
Do you think your business could benefit from improved productivity, eliminating the cost of secondary packaging and all without compromising quality?
If so, please get in touch for a personalised plan and advice on how to minimise packing times.
Cost Reduction Strategies
Competitive Advantage
Your Packaging. But Better...
Guides & Advice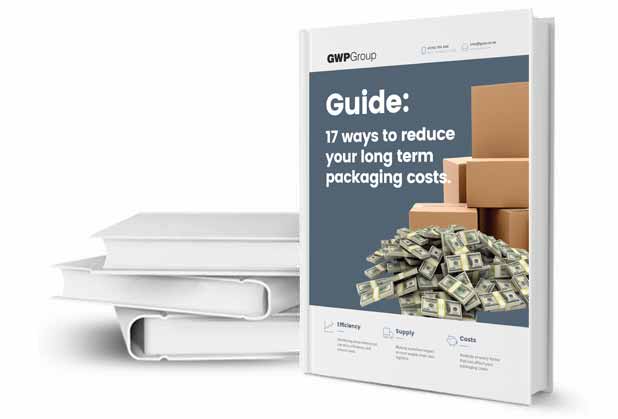 Get your free guide highlighting 17 strategies to reduce your long term packaging costs
Related Guides / Articles
Quotes, Technical Info, Advice...
Get your no obligation, tailored quote (or impartial product advice) now
For full details on how GWP will treat your data, please view our Privacy Policy. Your information will not be shared with any third party.
Here to Help
Contact a member of our sales & support team directly