Packaging Process Improvement
Noticeably improve efficiency and enhance productivity through clever use of packaging
Packaging efficiency is an area that is overlooked surprisingly often by businesses of all sizes.
An whilst there are many aspects of your business and operations that you could analyse to identify efficiency gains, perhaps the largest opportunity lies with your packaging.
Minimised labour costs. Improved packing (and, in turn, fulfilment) velocity. Reduced storage space and associated costs. Lower expenditure. All of this and more is possible by making even small improvements in the efficiency of your packaging processes and inventory.
Strategies to Improve Packaging Efficiency
A range of packaging improvement ideas to enhance efficiency
Please see below for a number of ideas and strategies that you could implement at your business to improve efficiency, enhance productivity and ultimately reduce your costs.
Strategies for minimising your stock holding & costs
Most businesses can identify with problems of storage. It may be you simply don't have enough. Or need the space to expand production. Even a lot of wastage from stock that becomes damaged during storage. Whatever the issue, reducing packaging storage requirements can help.
Rationalise lines for a lean inventory
One of the most commonly overlooked ways of improving efficiency is packaging consolidation (rationalisation). Whilst not easy to implement, it can have a tangible impact on management of your packaging, and reduce costs by creating an efficient, streamlined inventory.
Aid packing staff for productivity gains
By minimising packing times, it is possible to reduce labour costs, increase output and your overall productivity (ultimately fulfilling more orders). In fact, any reduction in packing times can have a significant, positive impact on your business.
Free, no obligation review of your packaging
Do you know if your packaging is using the optimum material? Have a high volume of packaging wastage? Lots of returns? Know your packaging isn't performing, but don't know where to start fixing it? Maybe you just wish there was someone who could handle this for you?
Why Packaging Efficiency is Crucial
Packaging line efficiency / packaging process improvement
"Lets improve packaging efficiency".
It's a good idea, something brought up in countless meetings in businesses just like yours. It'll help to reduce costs. It will help improve the number of orders that can be fulfilled. It could even have a significant impact on profitability.
All true. But where do you start?
Being involved in so many processes within your production or fulfilment operations, the improvements can be quick and significant.
It can improve how you handle orders and deliveries. It can improve (and reduce) the way you store and retrieve your stock. It can even minimise the admin of ordering and maintaining your packaging supplies.
Taking a holistic view of improving packaging efficiency
GWP have extensive experience in improving the efficiency of packaging for businesses large and small across a diverse range of industries.
Taking a holistic approach, the first step will be to fully understand your current packaging processes, inventory and areas of your business it can be having an impact on.
Potential inefficiencies and bottle necks can then be identified by a team of experienced and knowledgeable packaging consultants, designers and engineers, allowing you to benefit from improvement strategy that is tailored specifically to your business.
From changing material grades to updated box designs that allow for easier packing, managing your full inventory or even just adjusting sizes or streamlining packaging products to allow more flexibility, there is a range of tactics and innovative ideas GWP can employ to enhance your packaging efficiency.
So, if your business could benefit from proven strategies to improve efficiency – and the subsequent effect it can have on your costs – please speak with an adviser today.
Packaging Efficiency FAQs
Frequently asked questions on how to improve packaging of products
Want to know how can your packaging operation be improved? Got questions about a packaging improvement project? Or just want to know where to start? The below provides a number of answers to commonly asked questions on packaging efficiency.
However, if you're unable to find the answer to your specific question please speak with a member of the GWP team on 01793 754 444 or email info@gwp.co.uk.
Why should I worry about improving packaging efficiency?
Improving the efficiency of your packaging can have a number of significant benefits to your business. It can reduce labour costs (through improved efficiency). It can help your business fulfil more orders and cope with peaks in demand such as Christmas and Black Friday. It can minimise your storage requirements. Ultimately, it can improve performance whilst reducing costs.
My packaging is already performing well – can you really improve it?
The first thing GWP will do when looking to improve your packaging efficiency is fully understand your current setup, as well as your specific market, application and any challenges you are already or are likely to face. This will nearly always identify areas for improvement, but, if we do not think we can improve what you are currently doing, we will be completely honest and tell you.
I need to fulfil ever greater numbers of orders – can you help?
Whether your orders are increasing due to the shift to online sales, growth from key accounts or is driven by seasonal peaks, then packaging efficiency can help you overcome all of this. Plus, by being able to fulfil more orders more quickly, it can have a knock-on effect in terms of customer satisfaction and repeat business.
Can GWP help me improve picking as well as packing efficiency?
Picking and packaging tend to go hand in hand. As such, GWP are able to advise on strategies and products that can help your order picking too. Our GWP Correx® division supply a huge range of picking bins and containers too, allowing you to effortlessly implement any strategies and begin improving picking velocity almost immediately.
What is meant by packaging rationalisation?
Packaging rationalisation is the name of a process given to streamlining a packaging inventory – moving from 15 different sized boxes to 5 for example. Whilst this can help reduce costs due to economies of scale, it can also help improve efficiency too (as specific boxes are easier to find, can be more easily organised etc.).
Find Out More
Speak with a packaging expert about how you can improve efficiency
If you are struggling to cope with high volumes of orders, staff productivity, efficient storage or all of the above, find out how improving your packaging efficiency can make a significant difference.
Improve Your Efficiency
Gain a Competitive Advantage
Your Packaging. But Better.
Further Info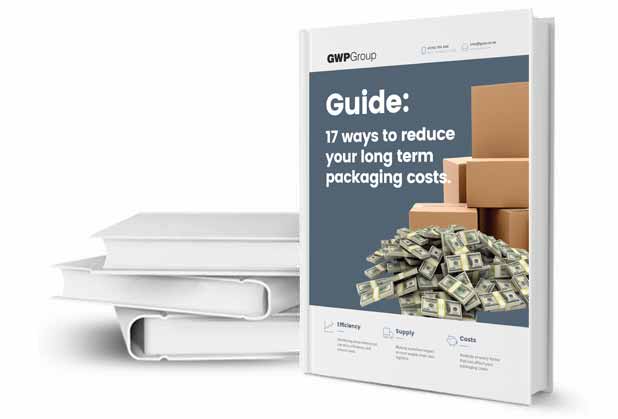 Download this ultimate guide to reducing your packaging costs for 17 exclusive tips & strategies
Related Guides / Articles
Quotes, Technical Info, Advice...
Get your no obligation, tailored quote (or impartial product advice) now
For full details on how GWP will treat your data, please view our Privacy Policy. Your information will not be shared with any third party.
Here to Help
Contact a member of our sales & support team directly