Industry Specific Knowledge
Understanding of the nuances of your specific industry sector / market
In most industries, it is imperative to gain as much of a competitive advantage over your rivals as possible. And your packaging should be no exception to this.
One way of leveraging this is to tailor your packaging precisely to the specific market segment you operate in. But, finding a packaging company that has the required skills and – crucially – experience, can often be little more than luck.
However, with more than 30 years' experience across a broad spectrum of industries, GWP can help you gain an advantage over your competitors with packaging that is truly optimised for your specific market.
Specific Market Knowledge
Industry sectors where GWP can demonstrate detailed knowledge / experience
Please see below for a list of packaging markets where GWP can offer a specialist degree of knowledge to help your business. If you cannot see your particular industry listed please do not worry – get in touch as we guarantee we will be able to help.
Precision engineered packaging to eliminate damage
Completely eliminate damage to specialist components, tools and products during handling, storage and transit using high performance packaging. From custom foams to Correx®, corrugated to anti-static, if packaged correctly your parts can (and should) arrive safely…
Everything from line-side kitting trays to retail packs
Understanding the time / cost pressures automotive manufacturers face, GWP have developed a range of packaging products and services that can directly impact the efficiency, costs and overall success of your business. Reduce costs, improve productivity and more.
Packaging products to improve productivity
With the growth of e-commerce, the need for successful fulfilment and logistics is growing at a rapid rate. Fortunately, you can source all of your packaging and handling equipment (totes, bins etc.), all of which are designed to improve your efficiency, from a single source.
Market leaders in anti-static packaging solutions
Static damage is the unseen danger to your electronics products, tools and components. Although invisible, it can cause catastrophic damage, resulting in customer returns, increased costs and damage to your reputation. So why not get packaging that solves this issue?
Maintain freshness, reduce costs and boost sales
Food & drink packaging must meet numerous challenges. Whether using corrugated, Correx® for handling or even sourcing retail POS, your packaging must be hygienic, potentially help maintain freshness, stand out in retail spaces yet still reflecting the personality of your brand.
Designed by manufacturers for manufacturers
GWP understand the challenges faced by manufacturers. The costs of having to stop production because of missing parts or materials (or packaging). The need to prevent damage and associated returns. The need for efficiency. Your packaging can help with all this, and more.
Waterproof packaging for all environments
Facing some of the toughest conditions and environments of any industry, the need to protect specialist and often expensive tools is particularly important in marine and offshore / oil and gas industries. Luckily, a range of waterproof packaging and cases can help.
Medical, clean room and pharmaceutical
In an industry where instruments, devices or even consumable products becoming damaged or contaminated can be the difference between life and death, the importance placed on successful packaging is extremely high.
High performance, secure packaging you can rely on
Mission critical. It effectively means a part, or tool, or product, cannot become damaged. The result can be long delays or – in the case of military and defence sectors – the loss of life. GWP offer military approved packaging, cases and supporting products to eliminate damage.
Wow factor to gain retail space, sales & market share
The balancing of act of adhering to brand guidelines whilst standing out, plus attracting sales, plus maintaining customer loyalty, plus securing shelf space plus… well, you get the idea. GWP can help with all your retail packaging – SRPs, POS, BDCM, printed and more.
Packaging Market Knowledge
Strategies, ideas, and products tailored to your specific business / market
Working with businesses operating in different industry sectors can result in any number of unique challenges, considerations, and circumstances. These particularly need to be taken into account during the packaging design process.
Packaging which proves successful in one industry may be entirely different to that required in a different sector. It is therefore imperative that your packaging supplier takes the time to understand the specifics of any new application.
It is rare however for a single organisation to demonstrate knowledge and capabilities across a wide range of packaging markets – but this is exactly what GWP can offer your business.
Expertise offered by GWP
Due to the unique way that the GWP Group is structured, and the wealth of experience gathered over more than 30 years of trading, it ensures we can meet and exceed your expectations regardless of the industry or markets you operate in.
And of course, GWP constantly strive to provide a professional yet truly personal level of service to every one of our clients.
This includes not only market leading, multinational PLCs, household brand names and national institutions, but also small, local manufacturing and distribution businesses.
This philosophy means that we don't necessarily measure success on the volume of business or packaging products produced, but ultimately on your level of satisfaction.
Tailored Packaging FAQs
Common questions on packaging for specific markets
For many businesses, packaging that is tailored to a specific industry or market is a somewhat novel approach. As such, when considering this there is often a number of frequently asked questions – the majority of which are covered below.
However, should you require any information that is not detailed here – or you are simply interested in finding out how GWP can help you – please call 01793 754 444 or email info@gwp.co.uk.
Why should packaging be tailored to a specific industry?
Put simply, by utilising packaging that is perfectly tailored to your business (and by extension your specific industry or market), it can mean that your packaging can work much harder. Besides minimising costs, it can also help you improve efficiency, enhance sales (and repeat business) and give you a crucial competitive advantage over your rivals.
I work in a niche sector – does this still apply to me?
Even if your business operates in a small niche, it is still important to tailor your packaging to maximise its benefits. Working with a packaging manufacturer that takes a partnership approach to designing and supplying your packaging also means that any specifics relating to your industry can be successfully incorporated into your packs.
Wouldn't it be cheaper to use off the shelf packaging?
In the short term, standard boxes and packaging tend to be cheaper. However, over the medium to long term, they actually work more expensive. This can also be seen in increased packing times, higher delivery and transit costs, poor protection (leading to product damage) and even failing to maximise repeat sales through branding and print.
Besides tailoring sizes, what else can be done to enhance packaging for my industry?
There are often nuances particular to your sector that only those with experience of it will know. When this comes to packaging, it could include knowing that minimising packing times for quick fulfilment are absolutely key. Or that literally zero transit damage can be tolerated. Or even that certain materials can lead to problems with contaminating products. Whilst this varies from industry to industry, working with a packaging company such as GWP can help to overcome these challenges.
Why should I trust GWP with my packaging supply?
GWP have been supplying a huge range of businesses across a vast range of industry sectors for more than 30 years. With high staff retention and intricate knowledge retained in the business, this means that GWP are able to provide a solution that is tailored to your specific requirements through a mixture of experience and cutting-edge technology / manufacturing equipment.
Find Out More
Get advice on packaging for your industry
If you think your packaging isn't perfect for your specific application or market, is lagging behind your competitors, or you are just looking for a fresh approach, please get in touch with a member of the GWP team today.
Market Knowledge
Gain a Competitive Advantage
Your Packaging. But Better.
Further Info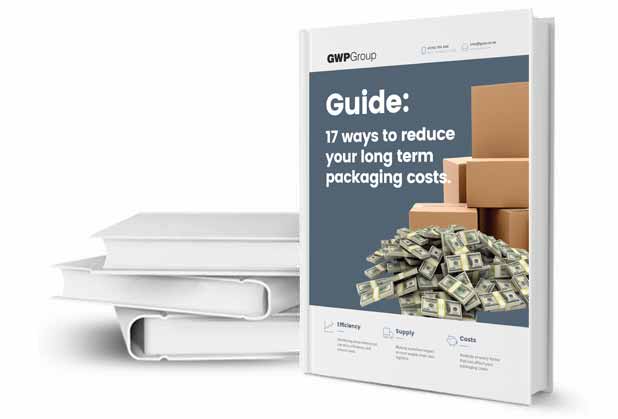 Download this ultimate guide to reducing your packaging costs for 17 exclusive tips & strategies
Related Guides / Articles
Quotes, Technical Info, Advice...
Get your no obligation, tailored quote (or impartial product advice) now
For full details on how GWP will treat your data, please view our Privacy Policy. Your information will not be shared with any third party.
Here to Help
Contact a member of our sales & support team directly