Maximise Packaging Success
Strategies and ideas designed to have a significant, positive impact on your business
Competitive advantage. Noun: a condition or circumstance that puts a company in a favourable or superior business position.
In essence, this is GWP Groups' rationale to being in business – to give each and every company that we work alongside a competitive advantage.
Don't believe that your packaging can provide you with a competitive advantage?
Please use the links below for specific strategies and ideas on how you can improve your packaging and operations. Alternatively, speak with an experienced adviser for impartial, no obligation advice.
Make your packaging cost effective and positively affect your profitability
Please see below for a range of strategies that can help you realise cost efficiencies throughout your packaging products, processes and supply chain.
Ensuring your packaging is sustainable and environmentally friendly
Please see below for all the ways in which GWP can help to minimise your environmental impact and become truly sustainable.
Minimise the cost and reputational damage of items breaking in transit
There is no quicker way to lose customers than consistently supplying damaged goods or products. Find out how your packaging can prevent this below.
Strategies and ideas to make your packaging work harder
Improve the efficiency and productivity of your staff that use or handle packaging with these strategies and ideas.
Truly bespoke packaging to meet your specific requirements
Can't find packaging that is quite right? Performance levels not as you would hope? Too costly? Custom designed packaging can solve these issues and much more besides.
Services and advantages you won't find anywhere else
The unique way in which GWP Group is setup allows you to take advantage of a number of services and benefits that simply aren't available anywhere else.
More Than a Packaging Supplier
Wide ranging, tangible benefits for your business
Whilst we obviously place a huge amount of focus on the packaging products we manufacture, what really sets the GWP Group apart is the broad range of complimentary services that you can take advantage of.
Many of the benefits and services offered are unique to GWP, having been developed and refined over 25 years of helping businesses just like yours.
Ultimately, by working alongside GWP you will not only gain a packaging supplier but a strategic partner, constantly looking for ways to have a direct, positive impact on your company's success.
From reducing your costs to improving your efficiency, boosting your sales to designing high performance packaging to solve specific problems or challenges. Every service and product will be tailored to your exact requirements and aimed at providing genuine benefit.
About GWP Group
Key details in 3 minutes
If you'd like to know a little bit more about how GWP Group operate, please watch the brief video below.
Packaging Service FAQs
Common questions regarding GWP Group services and advice
Have questions regarding the range of packaging supplied by GWP Group? If so, please see below for a selection of FAQs.
Can't find the answer to your specific question? No problem! Please contact a member of the GWP team on 01793 754 444 or email info@gwp.co.uk, who will be happy to help.
Can you really help reduce my packaging costs?
GWP Group have a wide range of strategies to reduce the ongoing cost of your packaging. This involves taking a holistic look at all of your products, processes and packaging, identifying areas that can be improved. It can be common to see cost gains in packing times, material usage, minimised transit damage and a number of other areas.
Can packing times be affecting my costs?
Slow packing times can be one of the hidden costs of your packaging. It means less orders fulfilled, higher wages paid to operatives, and can even affect repeat business if your fulfilment times are too slow. GWP has a range of strategies to help improve your packing times and overall efficiency.
I would like a packaging audit – how is this conducted?
Typically, a full packaging audit would entail a visit to your site (or various meetings over Zoom or other video platform), to build up a full picture of your packaging operations. A team of expert designers, engineers and advisers will then be able to create a tailored programme of improvements for your business.
Can you design completely custom packaging?
GWP Group boast a large, experienced, award winning design team. Based across 2 well equipped design studios, a designer allocated to your business will be able to create packaging that exceeds your expectations in terms of performance, material usage, aesthetics and costs.
Can you help improve my packaging's environmental performance?
GWP take pride in being a truly green packaging company. This means we will be able to help your business minimise the environmental impact that your packaging has, including strategies for material reduction, moving from single trip to multi use and switching to fully recyclable options as appropriate.
Find Out More
Get advice from a packaging specialist
If you haven't found the solution to a problem, the service you are looking for, or just don't know where to start, then please contact a member of our team here at GWP who will be happy to help.
Your Packaging. But Better.
Further Info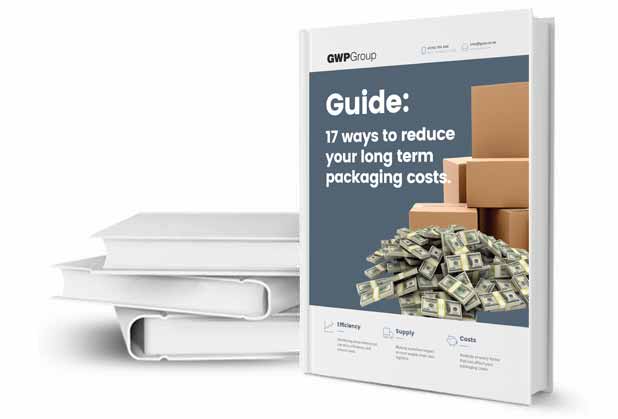 Download this ultimate guide to reducing your packaging costs for 17 exclusive tips & strategies
Related Guides / Articles
Quotes, Technical Info, Advice...
Get your no obligation, tailored quote (or impartial product advice) now
For full details on how GWP will treat your data, please view our Privacy Policy. Your information will not be shared with any third party.
Here to Help
Contact a member of our sales & support team directly