Transit Efficiency
Proven strategies to reduce shipping costs, whilst also minimising storage
Whilst the growth in ecommerce is undoubtedly fuelling competition amongst couriers and haulage providers, a key challenge for any business is attempting to reduce shipping costs.
A central part of any strategy to improve a company's performance in this area is the role that packaging has to play.
In fact, poorly sized packaging can have a serious, negative impact on your business' ongoing costs.
Poorly Sized Packaging
The usual reason why there is a need to reduce shipping costs
Many companies will utilise stock sizes of boxes and cartons (or off the shelf protective cases / bins)  for one simple reason – as they are produced in bulk and have no upfront design or tooling costs, they are considerably cheaper per unit than custom designed boxes.
So what is the problem?
Whilst this sounds great in principal, the problems become apparent when shipping the finished products. To use the "nearest" sized packaging usually means a box that is big enough. However, the likelihood is that there will be wasted space within each box.
This in turn means that shipping costs rise. Effectively you are paying to ship boxes that are not completely full or that are packed with void fill products (which have to purchased at further additional cost).
Amazon – one of the largest shippers of goods globally – are frequently given negative press coverage for sending small goods in outer cartons that are substantially larger than is actually required.
If this sounds familiar, you can benefit from strategies to reduce shipping costs.
Example of cost savings achievable
Please see below for an infographic detailing how custom sized packaging can reduce your ongoing (transit) costs. Please click the image for a larger view.
Considering the argument for custom sized packaging
Whilst it is not always the case, custom sized boxes can save companies vast amounts of money in shipping and courier costs.
Designed to perfectly fit your product, you can be certain that no space is wasted and more products can be delivered at one time too.
This is particularly important with the increased prevalence of volumetric shipping charges. It is even more important if goods are to be shipped internationally too.
A team of experienced designers will work alongside you to create a packaging solution that  allows you to maximise the efficiency of your shipping and / or logistics operations.
Great care will also be taken so that  transit protection required for your specific products will not be compromised either.
In fact, increased transit damage can offset any savings realised through strategies to reduce shipping costs.
Additional Benefits
Other ways custom sized packaging can reduce costs
Besides the reduction in shipping costs, tailoring the size of your packaging to your products can result in a number of other cost savings and advantages too.
Firstly, items used to fill any additional space, including foam pellets and other void fill packaging, are no longer required. Eliminating the need to purchase this secondary packaging has an obvious and immediate benefit to your overall costs.
Custom size boxes will also generally take up less space in storage, and the costs associated with this.
Being tailored to your products, they will usually offer improved levels of protection too. This in turn leads to fewer damages during transit, fewer returns and fewer customer complaints.
The overall effect of this is lower costs of replacing goods, happier customers and an increased likelihood of repeat business.
Case Study
Hardware Services
By taking advantage of tailored sizes, the costs of shipping have been greatly reduced.
This is in addition to other benefits including reduced transit damage (and therefore returns), plus enhanced branding too.
We source a range of bespoke cardboard packaging for our network equipment refurbishment program. There is a "family" feel when dealing with GWP and you can really see how much they value their customers. I would recommend GWP due to the flexibility of helping their customers create a solution and service that fits the needs of the business.
Ben Carter | Hardware Services Operations Manager
FAQs
Commonly asked questions about reducing shipping costs
If the sound of reducing your business' shipping costs sounds appealing, but you have a few questions, the below section is for you (covering the most commonly asked queries on this topic).
Still can't find the info you need though? Don't worry! Please contact a member of the GWP team who will be happy to advise.
How can custom sized packaging reduce costs?
The main way in which using custom sized packaging can reduce shipping costs is simply through taking up less room during transit. If you operate your own vehicles, this means less journeys (and therefore less fuel, vehicle wear and tear, lower labour costs for drivers etc.). Effectively, it eliminates the cost of shipping empty space.
Wouldn't stock sizes boxes be cheaper?
The main argument against using custom sized packaging is that it is more expensive than off the shelf boxes. Whilst this is true in the short term (due to design time, tooling costs etc.), in the mid to long term using custom sizes boxes is actually considerably cheaper (due to less material usage, reductions in shipping costs, minimised storage etc.).
Can this help reduce the amount of void fill my business uses?
Another additional benefit of custom sized packaging (in addition to reducing shipping costs) is to also minimise the amount of void fill you require. Purchasing this obviously adds to your costs, so reducing this has a direct impact for your business – alongside not paying to ship excess amounts of it too.
Will reducing shipping costs help the environment too?
Yet another benefit of minimising shipping costs is the impact on the environment. Less trips means less C02 emissions from vehicles, whilst the (typically) smaller pack sizes and less void fill also means less material to recycle.
What are volumetric shipping charges?
Volumetric shipping charges are where the costs of transport are calculated by the overall size of the package you are shipping. Particularly common amongst couriers (who may also charge by weight), it means that reducing pack sizes can have a significant impact on this area of your business costs.
Summary
The key benefits of reducing shipping costs
Reduce shipping costs through tailored sizes (eliminating shipping of "empty space")
Elimination of costs and storage associated with secondary (void fill) packaging
Sizes can be tailored to Royal Mail or courier specific guidelines
Frequent reduction in storage space before use
Particularly beneficial for ecommerce and mail order operations
Find Out More
Get advice from a packaging specialist
For further information on how custom designed packaging can lower your shipping costs, please speak with a GWP Group advisor for free, impartial advice today.
Cost Reduction Strategies
Competitive Advantage
Your Packaging. But Better...
Guides & Advice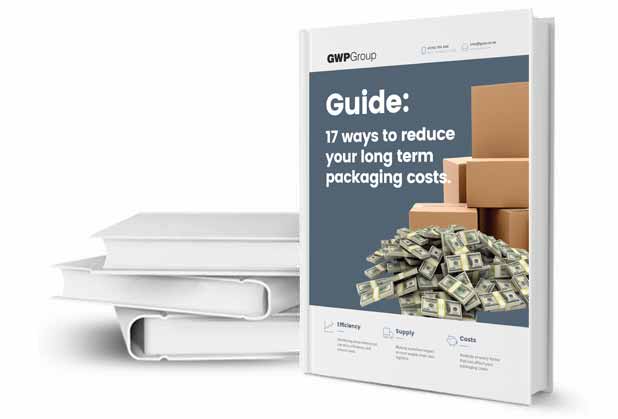 Get your free guide highlighting 17 strategies to reduce your long term packaging costs
Related Guides / Articles
Quotes, Technical Info, Advice...
Get your no obligation, tailored quote (or impartial product advice) now
For full details on how GWP will treat your data, please view our Privacy Policy. Your information will not be shared with any third party.
Here to Help
Contact a member of our sales & support team directly