School Holiday Tips
Keeping the little ones occupied on gloomy days
With the summer holidays in full swing, and with British summertime never at its best, it's essential to have a backup plan for keeping the kids entertained on the greyest of days.
On a budget?
Not a problem, the answer – cardboard boxes!
Cardboard crafts are superb for entertaining children with endless imaginations – these boxes are not only toys but, can be a whole universe of imaginary items and places. From pirate ships, caves and animals to a paint splattered wall, with a bit of guidance, your child can turn an ordinary cardboard box into an assortment of memorable activities.
In addition, cardboard makes for an environmentally friendly toy or activity for your child!
As such, this article highlights 5 of the best ways to use cardboard as a fun activity this summer. This list can both be followed as a step by step or used as an inspirational guide and customised where required.
Continue reading below for DIY cardboard crafts and toys with a brief guided description and links to the original article/guide.
Quick Reference / Contents
01: Cardboard Rainforest and Jungles
Adventures and imaginative play for your little ones
This craft idea doesn't need to be limited to rainforests or jungles; it can be a desert, ocean, lake or any form of habitat with animal occupants. You may, however, require a trip to your local supermarket, pound or craft store for a couple additional purchases.
As well as being bags full of fun, the task at hand could open up a range of questions from your little ones, subsequently stimulate their thirst for knowledge.
Materials Needed
Plain Cardboard Box (no high shine graphics)
Paint / Paint brush & bowl
Scissors
Glue or double sided sticky tape
PVC glue or hot glue (to be used by an adult only)
Branches, moss and/or leaves
Fish tank plants (plastic – can be found in pound stores)
Miniature toy animals – pound store or craft store purchase
Rocks
Background image (not essential) – this can be printed from the web or can be in the form of scrap/sample wallpaper strips.
Blue gems/beads/sequins (this is to represent a pond/water any additional likewise craft supplies can be used)
How to
In brief, the cardboard box needs to have three sides – so the first step is to cut one of them off.
Secondly, get your child to paint the box – colours can vary depending on the habitat your child is dreaming up. Once dry, you can either glue the background into the box (if you have chosen to use one). Alternatively, use the piece of cardboard you previously cut off to either glue or sticky-back tape the image to the board and push into the box for a sturdier, less fiddly way of adding a background.
If you choose the latter, be sure to remove approximately 1mm from either side before glueing so the backdrop fits in without having to bend it.
Crayon box chronicles version notes that the only other completely adult orientated task asides from the cutting are the glueing of the branches.
This can be done with hot glue and may need holes pierced in the side of the boxes to help it stay.
Asides from this, the remaining tasks are only limited by your child's imagination. For a more detailed explanation follow below for Crayon box chronicles.
02: Cardboard Garage / Ramp
Perfect for toy cars and vehicles
Most likely to be a hit with the boys, although obviously, girls can enjoy car toys all the same!
This cardboard garage/ramp is an example of another environmentally friendly toy which, can be easily recycled once finished with.
More likely to be longer lasting and more sturdy if constructed by a parent, get your little ones involved in the decorating. Colouring in or painting the ramps and parking spaces will be guaranteed fun for the youngsters!
Materials Needed
Cardboard boxes 3-4 depending how big you want to make it
Glue / Glue-gun / Tape
Paint / Felt tip pens
Scissors
Clear packaging tape will add stability although not required
For additional information on how Frugal Fun for Boys put this together check out the site linked at the end of this blog.
03: Cardboard Box Splatter Printing
Because whos' kids don't like making a mess!
Any parent knows paint is a great activity for keeping the children entertained.
However, it almost always ends up in a mess.
What better way than to minimise that mess with a cardboard box. Saying that it is recommended this activity takes place outdoors to reduce the risk of destroying your floors and furniture.
Materials Needed
Balloons
Funnel (if you don't have one to hand create a DIY paper funnel)
Rice
A scoop – tub/pot for the rice
Paint – as many colours as you like
Bowls for the paint (to separate the colours)
Cardboard boxes
Scissors
Paper – A4 cut up into quarters (or however you prefer)
How to
This is marginally one of the easiest cardboard box crafts to set up. As such, it means your child can be fully involved without relying too much on adult intervention.
Firstly, your child can grab as many balloons as he/she pleases depending on how many different colours of paint they wish to use.
Place the balloon at the end of the funnel (you may need to hold it in place), and then ask your child to fill the balloon with rice by scooping the rice out and into the funnel.
The balloons then should be a similar size to the image above.
The next stage is to set up the paint ready in separate bowls. These can be paper, plastic, or even tubs – anything that you're able and willing to wash. Then place the balloons in the bowls ready for use – Rochelle Doorley at tinkerlab.com coordinates the balloons with the paint.
The next bit is the fun part for your little one!
Once the boxes are set out ready, have your child to roll the balloons around in the paint and throw them into the box creating artistic patterns.
With the paint still wet, get your child to stamp the cut up paper onto the painted cardboard to make their patterned print and then keep somewhere safe for drying!
04: Cardboard Animal Magnets
Cute characters you can stick on the fridge
Suitable for children of ages 3 and up, animal magnets are another engaging cardboard craft.
Children love animals – whether that is house pets, farm animals or even wild creatures – so what better way to express their creativity with an activity that also has the opportunity to be educational.
Materials Needed
Cardboard
Scissors
Glue
Paint
Sharpies / Felt Pens
Googley eyes (optional)
Small Magnets
Magnetic white board – optional, these magnets can just be used on the fridge
How to
There isn't really a right or wrong way of creating these imaginative animal magnets. Meri Cherry's project shows her creating easy to use circular shapes, but it really is dependent on you and your child's preferences.
You may need to cut the shapes out and supervise the glueing of additional cardboard features depending on the child's age.
The decorating, however, should offer a free reign to express their creativity. Once coloured/painted and dry, apply the magnets on the back ready for your kids to use on the fridge or around the house.
05: DIY Yarn Wrapped Letters
Create names, words or even decorative shapes
Cerys from rainy day mum has created these yarn letters taking the theme of Valentines as inspiration, but they could be used to help your little ones explore their names and spelling.
Besides this, it will make for great bedroom décor!
Children 7+ should be able to do this on their own (asides from the glueing), whilst younger children are likely to need guidance and supervision.
Materials Needed
Cardboard
Scissors
Pen / Pencil
Yarn – Can be one colour or a mix
Sellotape or hot glue
How to
This craft really is a simple process but will require patience from your little ones, so perhaps this activity is best suited for some quiet down time.
The first step is to draw out the letters on the cardboard and then cut them out.
Next use the letters you've just cut out to trace another set of letters. This step can be done as many times as you want, to make the letters as thick as you require.
The third stage is to either glue the (same) letters together with a glue gun or, tape them together before securing the yarn to the back.
Next is the part which requires concentration and patience. Start by wrapping the yarn around the letters in vertical lines. Once you get to the end of the letter, cut the yarn and secure it to the back with tape or glue.
Finally, begin wrapping the letter again but, this time in a horizontal direction. Again, once you reach the end secure in place on the back with tape or glue.
Repeat the process for the rest of the letters.
For a more detailed step by step guide please visit the Rainy Day Mum's blog.
In Summary
More Information and Inspiration
For additional craft ideas and activities suitable for those miserable grey days, please follow the links to the affiliate links below where you will find a range of inspirational projects.
Further Reading...
Matt has worked in the packaging industry for approximately 9 years, having joined GWP Group as Marketing Executive in 2012. [Read full bio…]
Featured Products
View the packaging in this guide...
Get in Touch...
We're here to help!
For full details on how GWP will treat your data, please view our Privacy Policy. Your info will not be shared with any third party.
Related Guides
All Guides & Advice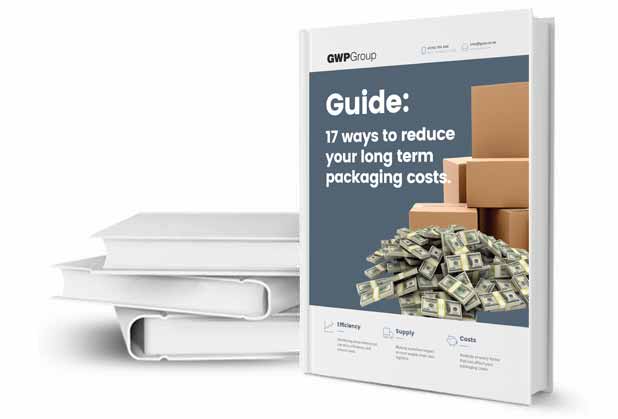 17 Tips & Strategies to Reduce Packaging Costs
Get your free guide detailing how you can reduce your long term packaging costs.